Knotty problems and baked bananas!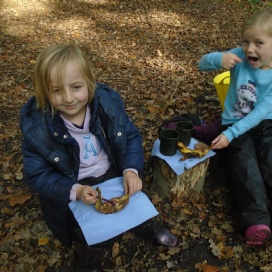 This week the children were introduced to 'Sammy Snake'(a rope) and had a go at practising a knot that can be used to secure a hammock to a tree.
With a little help, several of the children succeeded in fixing their hammock to the trees and enjoyed gently swaying in the breeze and gazing up at the beautiful, clear autumn sky.
Despite being a little dubious about baking bananas in the embers of the fire, everybody then helped to gather firewood. Once they learnt that they were going to put chocolate buttons inside the bananas they were a little more enthusiastic! I failed to win everybody over on this new taste sensation but again the children were willing to try something new-even those that insisted that they HATED bananas!
For the remainder of the session, the children continued to explore the woodland and develop their own ideas for games, practise their skills with fire lighting and den building and make more pine cone bird feeders. These feeders are very popular with the birds. As soon as the children left today, robins and blue tits were seen pecking at the filled pine cones that the children had tied up around the camp.
We hope you all have a wonderful holiday and look forward to seeing you next term. The weather will be getting colder so please remember to wrap up well.
Click here to see photos from this week's session.