Session 3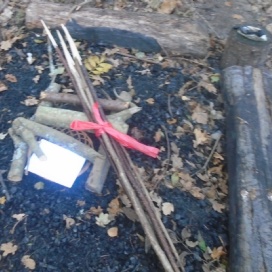 In search of spaghetti strings and chipolatas!
This week the children were given the challenge of collecting, 'spaghetti strings' and 'chipolatas'! These were the names they gave to the different sizes of kindling needed for our camp fire. We were keen to get a fire going as soon as possible because our 'Little Friends' had kindly left some marshmallows (and toasting forks) for us. Everybody worked very hard to gather wood and before too long we had our campfire going. Once toasted, we sandwiched the marshmallows between chocolate biscuits to make delicious smores. They were very yummy and sticky!
Click here to view the photos in the gallery to see what else your children got up to this week.