Session 8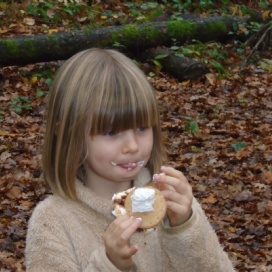 A grand tidy up, sticky fingers and a fond farewell.
Today was our final session in the woods so our first job was to 'leave no trace' of our activities over the last few weeks. All the children helped to tidy up and remove the remaining pieces of pumpkin that had not been eaten by our forest friends. They were very mouldy!
Getting a fire going was our next priority as we had found some GIANT marshmallows that needed toasting. Everybody enjoyed sandwiching them between the chocolate biscuits to create the best smores ever. However, we did get into a sticky mess trying to eat them!
The morning passed by so quickly but there was just time for a few more games, bridge building and some craft activities to make some special souvenirs to remind the children of their time at Forest School.
Oak Group have been fantastic to work with and we look forward to welcoming them back into the woods next year. Thanks as always to our parent helpers, without who, we really could not bring Forest School to Colliers Green.
Click here to see photos from Oak Group's final week in the woods ... well, until next year.