Remembrance and natural art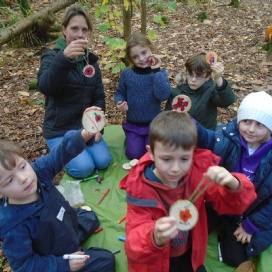 Remembrance and natural art.
The brilliant autumn colours of the woodland trees and pumpkins with grinning faces greeted us today. We looked inside the pumpkins to investigate what had been feasting on them over the last week and found several contented, fat slugs!
As we sat around the fire circle, we discussed the centenary of the ending of the First World War and some of the children chose to decorate some very special tree cookies with poppies. Others used leaves collected from the forest floor to create some beautiful natural art.
With the discovery of a large pile of woodchips, several children quickly volunteered to lend a hand to help shovel it into wheelbarrows and spread it around the fire circle.
Well done to everybody in Oak Group. Today, you have all demonstrated a great sense of community through working together to create your works of art, building dens and helping to look after the woodland.
Click here to see photos of your children in action and some of the beautiful works of art they created today.