Session 2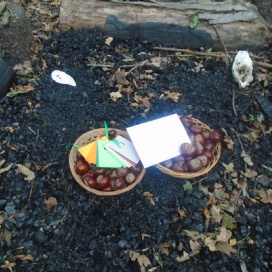 Oak group were excited to discover a letter from their 'Little Friends' together with conkers that the Sneezy Dragon had collected and some special shells that they were able to use to practise making 'fairy fires' in.
The Little Friends were interested in one of the games invented by the children last week, so we started the session by adapting this game to make it slightly easier for everybody to play. They had to work together to try and match the colour on the cards to things they could find in the woods as quickly as possible. Whoever knew that there were so many shades of: green, brown, yellow, orange, etc!
Some of the children were keen to develop their observational skills further and set off in pursuit of min-beasts. There are many fantastic nature detectives in Oak group. Magnifying glasses and pooters (ask your children what these are!) were used to help them search and collect all sorts of bugs and beasties. These were then carefully released at the end of the morning as the children understand the need to look after their world.
Throughout the session, the children demonstrated our school value of community as they were all very good at looking after one another. They worked together to help each other whether it was:
team work as they carried logs to make a den
collecting firewood so that we would be able to have a camp fire next week
supporting and encouraging one another as they tried to light their fairy fires
taking turns to use the tools
and even doing the washing up!
Many of the children are very creative and enjoy making things using the tools. I have been so impressed, not only with the wonderful items that have been made, but also with the patience shown by the children who have not had a turn yet. They will all obviously have an opportunity to use the tools, practise fire lighting etc over the coming weeks but their willingness to wait shows great maturity.
I cannot end without saying a sincere thank you to Mick Lott and his team from Living Forest ,for dealing with the partially uprooted larch tree so promptly. The children were thrilled that they could use this part of the woodland again as this is where a favourite swing can be found!
No comments have been left yet.