Session 5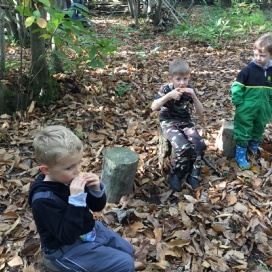 The children were so keen to get going in the woods today. They are showing real independence and confidence. I am also so impressed with their resilience and their awareness of finding the inner-strength to bounce back when faced with problems.
During our initial chat around the fire circle they recalled the three components that are required for a fire to burn (maybe you can ask them to tell you and post their answer in the comments on this blog!!) Every single member of the group has now achieved success with the fire-strikers and a few of them are keen to extend their skills to lighting fairy fires (igniting a small ball of cotton wool in a oyster shell).
The children took responsibility for heating their own water using the Kelly Kettle today and mixing the paste to make 'scrummy-wummy hot chocolate'. They each toasted their own marshmallows over the fire - being careful not to scorch them to a crisp but rather to patiently warm them over the hot embers to achieve the perfect golden brown gooey consistency before it was squished between two biscuits. The volume audibly dropped whilst they munched around the fire!! A huge thank you to Catkin for providing the marshmallows.
Other activities included a group-devised army game; creating elder necklaces using palm drills and deco pens and taking turns on the ever-popular swing. A handful of children also joined me in the hunt for my lost bee earring and then showered me with consolatory hugs when we had to admit defeat....therefore they may be pleased to hear that my daughter found it that evening in the bathroom - it must have fallen into the inside of my jumper. Mrs B is 'habee' to be reunited with her bee!!!!
Rowan group are very kind and thoughtful to the feelings of others. They also understand the value of a compliment to their peers' self-esteem and the woodland was full of smiles - what a thoroughly heart-warming end to our first half of term.
Click here to view this week's photos and please encourage them to reflect on their sessions at home and share their achievements, observations and thoughts - the icing on the cake would then be to share their comments on the blog.
No comments have been left yet.