Session 3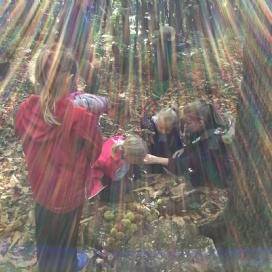 Mr Dragon is better! As a thank you for making him a new nest and providing a store of delicious sweet chestnut medicine, he had left a big pot of hot chocolate...
But...how were we going to make it hot?......
We discussed that Mr Dragon had provided us with heat by lending us his fire-strikers, the atmosphere had provided us with oxygen and now all the children had to do was find some good fuel to burn!
One group set off with a big trug to collect the 'string thin' twigs whilst the rest of the group set about finding DRY and SNAPPY finger-thin twigs to act as kindling. We had a quality controller to ensure that only the finest dry wood made it to the fire circle. Foxglove laid a fire that started with the thickest pieces at the bottom and gradually got thinner until we got to the thin larch at the top. The pyramid was topped off with a ball of fairy breath (cotton wool) and some Dragon's snot (ok I'll admit now it was petroleum jelly) to give us akick-start. The whole group let off several HUGE SNEEZES and our fire was lit. What a SUPER group effort.
The tripod and kettle were set up over the fire and the children went off to their various activities whilst Cures from today's session, Catkin kept an eye on the kettle hoping that the phrase "a watched pot never boils" would not stand true! Children popped back every now and then to see how it was doing in between building houses for the creatures of the wood and trying out fire-striking. There were so many lovely examples of turn-taking and supporting and advising each other to encourage success. One member of the fire-striking group reckoned he could offer his fire-striking tutoring services for "£20 a day"
The session ended by us coming together around the fire for a well-deserved hot-chocolate and the children sharing their magic moments from the session.
Click here to see pictures from this week's session