Session 7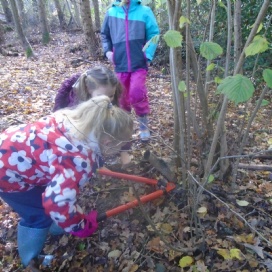 Using tools, environmental art and another wildlife discovery!
Another busy day in the woods. A group of volunteers set off in search of a hazel tree to harvest toasting forks in preparation for next week. Loppers were used to cut some thin stems, and these were then whittled to a point so that we will be able to spear marshmallows and hold them over the fire until they are golden and gooey! These will then be sandwiched between chocolate biscuits to produce a Forest School favourite-SMORES!
Meanwhile, our keen nature detectives spotted a newt that was doing its best to hide! The children learnt that newts spend the majority of their time on land and this one did not need to be placed in a pond-in fact it was probably getting ready to hibernate so we carefully put it back where we had found it once we had looked at it.
Creativity was also very evident this week with some children decorating tree cookies (including some beautiful Remembrance poppy designs) whilst others made use of a variety of natural materials to produce stunning environmental art featuring the rich autumn colours that were on display in the woods.
Click here to check out the gallery for pictures from this week.