Session 3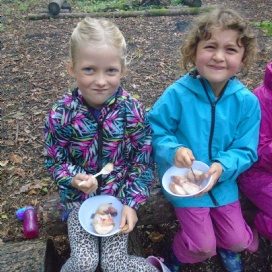 Baked apples, natural art and exploratory play.
Rain threatened all day but despite the damp weather we were able to get a fire going. The children took it in in turns to prepare the apples that they had harvested from the school orchard and filled them with blackberries and sugar before wrapping them in foil to bake in the embers of the fire. Most agreed that they were delicious!
Following our mini beast session from last week , some of the children created beautiful pictures of dragonflies and butterflies using natural materials. Check out the gallery for pictures of their ephemeral artwork.
Shelter building was also a popular activity today, but I am not sure that any of their structures would have been weatherproof in the event of a sudden down pour. This is obviously a skill to work on in future weeks!