Session 6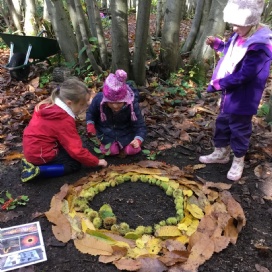 Pumpkins, pathways and painting with leaves.
The children were refreshed from their half-term break and happy to be back in 'their woods'. We played a game of Vanish to warm us up as there had been a frost overnight. The children had to think hard about where to hide now there is less foliage to hide behind. The rains of yesterday and 'pushed' many more leaves out of the trees and there was lots of fun to be had by creating pathways through the huge, sweet-chestnut leaves. We looked at the wonderful pumpkin donations and thought about what animals might be feasting on the group's delicious contributions. Several children made crescent moon pumpkin bird feeders by .threading string through a slice of pumpkin and then finding a suitable branch to hang them from. The children who brought in pumpkins thought about where they were going to leave them for the woodland fauna and took a photo - next week we will take a follow-up photo to see what has happened.
We made a pretty picture out of the colours in the woods - we will extend this activity by looking at the art of Andy Goldsworthy next week so encourage the children to collect and bring in vibrant coloured leaves. If you are keen to try one at home, take a look at the attachment below for inspiration.
Whilst we ate our snack, Foxglove told us a little bit about the reason leaves change colour. Click here to view pictures from today's session and please encourage the children to share their thoughts and feelings about the session in the comments box below.
No comments have been left yet.