Session 2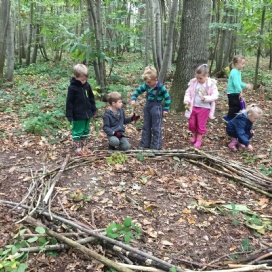 The ominous-looking clouds could not dampen the spirits of Rowan Group as they arrived excited to explore.
We started, again, by thinking how our school values could help us to look after ourselves, each other & our environment at Forest School. The children remembered each other's contributions from last week and were also able to add some new ideas. One of the ways they thought that they could love themselves (show resilience) was to make sure they dressed sensibly for Forest School.The children counted how many layers they were wearing. They thought about how it was better to take layers off if they got warm rather than get too cold because they didn't have enough. All the grown-ups were so impressed that all the children had remembered this and come equipped with extra clothes. A big thank you to parents for supporting their growing independence in this.
We played a game of VANISH to start the session and Fox was amazed at what excellent hiders Rowan Group are. She counted to 10 and when she opened her eyes she thought she was alone in the wood!!
Foxglove then gathered the group around the fire-circle to tell them about Mr Dragon: the very friendly but rather shy dragon who lives in our woods. She told us that during the winds last week Mr Dragon's home had been blown away and then, to make matters worse, it had rained and rained all weekend and Mr Dragon had caught a dreadful cold and had no nest to sleep in. Poor Mr Dragon!!
Luckily, Rowan Group were on hand to help. They set about making a nest with a bed of soft leaves and a medicine cabinet full of healthy sweet-chestnuts. The walls of the nest grew and grew as the group worked together to create a magnificent nest. One member of the group acted as 'quality control' using a special instrument to ensure that only the best sweet chestnuts were put forward for medicine.
During snack-time the group thought about what they had liked about working in a team:
"I wouldn't have been able to carry the big log by myself, but three of us worked together and we managed it."
"Working together meant we made 'the best nest'."
"It felt good sharing"
After their snack, the children were free to do what they wanted. Many wanted to continue working on the 'Dragon's Den' and there was much excitement when they found that the leaves had been disturbed and a dragon's feather had been left in the nest!!!
"Mr Dragon must have visited the nest while we were having our snack..He loves it!!"
"He'll be better in no time."
Some wanted to continue building the house they were working on last week, one wanted to remind themselves of where the boundaries were. Foxglove worked with a small group to discuss fire-safety and to introduce fire-strikers. Foxglove went through ways to keep yourself, each-other and the environment safe when having a fire and then sat back and watched the group of four attempt to create sparks and...wow, wow..WOW...they supported each-other and persevered until ALL four of them had succeeded. Their faces were a joy to behold!
Now we must wait a week to find out if Mr Dragon makes a full recovery in his brand-new nest with his first-class medicine so that we can have a fire next week.
Click here to view the pictures from this week's session. I have discussed the Blog with the group. We would love to hear their or your feedback on the session; please comment below.
No comments have been left yet.